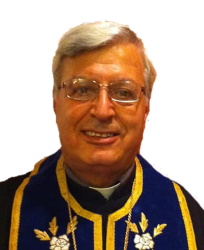 Fr. Elia was born in Douma, Lebanon on November 13, 1953 to Wadih & Bahije Shalhoub. For his elementary school he went to the Anunciation School in Achrafee, Beirut and to Douma Public School.
At age 13 he entered Balamand Junior High School. He later attended Lady of Balamand High School and completed his 2nd baccalaureate, majoring in Philosophy and Psychology. In 1976 he entered St. John of Damascus School of Theology at Balamand and went to the University of Thessaloniki in Greece for one year to study the Modern Greek language.
In 1977 he entered St. Vladimir's Seminary in New York for the Master of Divinity program in Orthodox Theology, graduated in May of 1980. On January 7, 1980 married Odette Rahbani in Lebanon and on January 20 of the same year was ordained a Deacon by Metropolitan George Khoder of Mount Lebanon Archdiocese.
On April 13, 1980 was ordained a priest at St. George Church of Boston, Massachusetts by His Eminence Metropolitan Philip, Primate of the Antiochian Orthodox Christian Archdiocese of North America. Immediately after his graduation he was assigned as an interim pastor of St. Mary's Church in West Palm Beach, Florida, from the middle of May to the Middle of August of 1980.
On September 1, 1980 he was assigned to his first parish of St. Antonios of Halifax, Nova Scotia, Canada which he founded and served faithfully for eleven years. While in Halifax he established the mission of Sts. Peter and Paul in Prince Edward Island and served them also. Because of his hard work and dedication he was elevated to the rank of Archpriest in July of 1988 by His Eminence Metropolitan Philip during the CAN-AM Parish Life Conference in Halifax, which the parish hosted for the first time.
In 1991 he was transferred to St. George in Toronto, Canada where he served for four years, completing the building project of the church and starting three missions in Mississauga, Kitchener-Waterloo area and St. Catherine, Ontario.
In 1995 was assigned to St. George Cathedral in Coral Gables, Florida where he helped rebuild the new Cathedral, a landmark in Coral Gables, and had it consecrated by Metropolitan PHILIP, and also hosted the 2003 Archdiocese Convention.
In July of 2004 he was transferred back to St. Mary's Church of West Palm Beach, Florida and served faithfully for seven years. While in Miami and West Palm Beach he helped establish St. Paul Church in Naples, St. Anthony in Melbourne and St. Peter Mission in Ft. Myers.
As of January 1, 2012 Fr. Elia became the Pastor of St. Philip Antiochian Orthodox Church in Davie, Florida. On July 1, 2015 Fr. Elia became the Pastor of St. Anthony Antiochian Orthodox church in Melbourne, FL. where he is presently serving and helping the parish to grow and to build a new house of worship for themselves.
On May 7, 2016 the new church for St. Anthony on Aurora Rd. was consecrated and Fr. Elia was elevated to the rank of Great Economos.
In all the Parishes he served, Fr. Elia served on many occasions as a chaplain in various hospitals, especially in Toronto and Halifax, Canada for 15 years. Pastoral counseling was included in his degree of Master of Divinity. He has 35 years of experience.
Fr. Elia has served and still serving the Antiochian Archdiocese in many capacities:
Teen SOYO Spiritual advisor for the Can-Am Diocese.
Dean of Clergy in Ontario and Upstate New York.
Dean of Clergy for South Florida Deanery for the last 20 years.
Teen SOYO Spiritual Advisor for the Diocese of Miami and the Southeast.
Spiritual Advisor for the Order of St. Ignatius for the Diocese of Miami and the Southeast.
Member of the Department of Liturgics and Translation. He has been preparing the Annual Liturgical Guide for the Archdiocese since 1999, which is used by all the parishes.
Fr. Elia is Fluent in English, Arabic and Greek and has knowledge of French and Spanish.